Tonight in Las Vegas, the most lucrative sporting event of the year takes place. Floyd "Money" Mayweather and Manny Pacquiao will step into the ring to face each other, and earn somewhere in the region of $250 million between them in the process. Not bad for two guys born into poverty, both of who had to drop out of school to support their families.
So to celebrate the biggest fight in boxing history, here are The Snooty Ushers' Top 10 – Boxing Movies. To create this selection we each listed our favourite Boxing films and calculated the scores (No dodgy, rigged judging here). There were some knockouts, some majority decisions and a couple of draws sprinkled in. Thankfully we all still have our teeth and good looks left. Starting from the bottom…
10. Crying Fist (Dir. Seung-Wan Ryoo, 2005)
Dan says…This film is another example of how fine Korean cinema can be. Starring Choi Min-Sik of 'Oldboy' fame, 'Crying Fist' is not a boxing film about glory, championships or the underdog. It is about dignity, and like a few boxing films, fighting your inner demons.
Two boxers, one young and frequently in trouble, the other older, jobless and in debt, end up facing one another for an amateur title but there is so much more on the line for the both of them.
9. When We Were Kings (Dir. Leon Gast, 1996) 
James says…A documentary about the Rumble in the Jungle, one of the greatest fights of all time as Muhammad Ali beats George Foreman. It has Ali on great form, and also goes into detail about his tactics in the fight about how he pulled off one of the most unbelievable boxing performances of all time against the supposedly unbeatable Foreman.
8. Ali (Dir. Michael Mann, 2001)
Dan says…Ali is the biography of the man himself directed by Michael Mann and starring Will Smith in the titular role. This film got in here primarily on performances. Will Smith & Jon Voight both received Oscar nods for their work, and with a cool supporting cast of Jamie Foxx, Jeffrey Wright & even Mario Van Peebles it makes an interesting watch. The film chronicles everything from fighting Sonny Liston to the Vietnam War to his conversion to Islam and infamous Rumble in the Jungle. Personally I feel, in my time there may not be a finer, charismatic actor to play Ali like Will Smith.
7. Somebody Up There Likes Me (Dir. Robert Wise, 1956)
Chris says…Brilliant film, winner of 2 Oscars. The film follows Newman as Rocky Graziano, a man building a career in crime before he is arrested. Upon his release and going AWOL from the army he discovers boxing as a way to make money. I am personally not a fan of Newman, I think he was overrated, however this was a stellar performance. Pier Angeli also sparkled as his  wife. I like how Graziano was linked to criminal activities and disbarred, similar to La motta.
6. The Hurricane (Dir. Norman Jewison, 1999)
Dave says…The boxing scenes are rare,this is more of a triumph of the human spirit and an expose of a total injustice.  Yes, there are the inevitable controversies that are present will all biopics, some doubt cast on the legal stuff, but just on Denzel Washington's performance alone this makes it over Cinderalla Man, this is the film that should have won him his best actor Oscar (he lost to Kevin Spacey for American Beauty).  Great film.
5. Rocky II (Dir. Sylvester Stallone, 1979) – Chris' #1
Chris says…After Apollo Creed consistently goads Rocky into a rematch, and Rocky suffers from some financial troubles, the two meet in again in the ring. While the first was a landmark, I felt that this was much deeper, more tragic (having made it big to finally lose it all) and the fact that he had already lost to Apollo,  made the underdog story all the more appealing.
4. Million Dollar Baby (Dir. Clint Eastwood, 2004)
Dave says…Wonderful film.  Based on shortstories of an actual cut man, this is as realistic a boxing film as I have seen.  Eastwood's turn as an unappreciated trainer seeking redemption is brilliant.  It is also a directorial masterpiece.  Great support from Hilary Swank as Eastwood's protégé.  A truly moving film.
3. The Fighter (Dir. David O'Russell, 2010)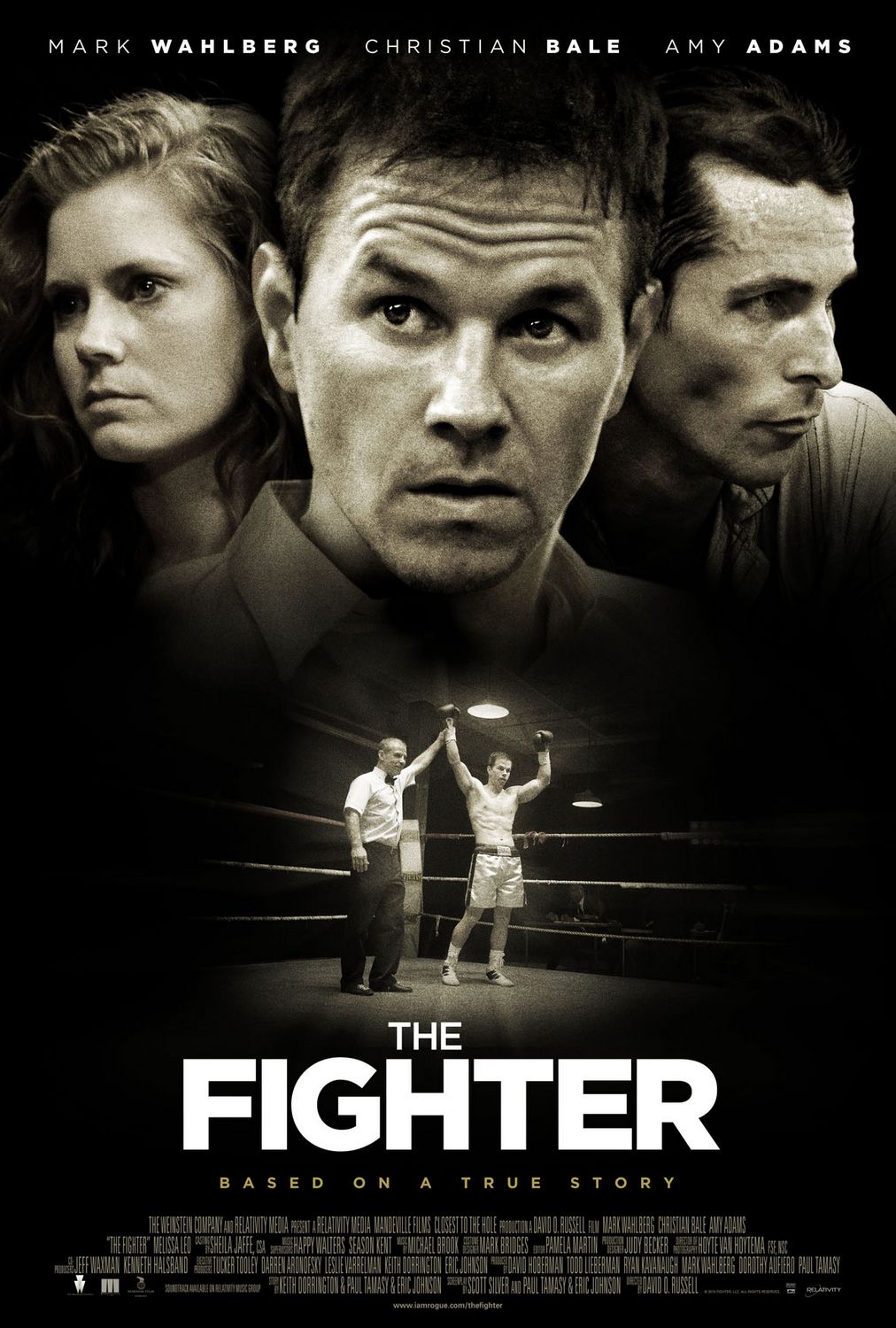 Dave says…Boxing films only work when you buy into theprotagonists story, he has to succeed against all the odds.  Mark Wahlberg as Micky Ward is definitely that.  Christian Bale stole the show with a great performance as Mick's brother, which is a shame, as this really should have been Wahlberg's finest hour.  A great story of a slightly less well known fighter.
2. Rocky (Dir. John G. Avildson, 1976) – James' #1
James says…"His whole life was a million-to-one shot" could refer to Sylvester Stallone as much as it does to Rocky Balboa. He had only $106 in the bank & was in the process of selling his dog when his script was picked up, and he still refused to sell it unless he got to play the main role. Stallone's self-belief and determination are as inspirational as Rocky's. Don't let the sequels dilute how impressive and powerful this film is, and there is that scene on the steps which inspired every training montage scene you have ever seen. One of my favourite films. One of my Dad's favourite films. One of my Grandad's favourite films. We're all huge boxing fans, if this isn't number 1, the rest of The Snooty Ushers are going to have angry Laycocks answer to!
1. Raging Bull (Dir. Martin Scorsese, 1980) – Dave & Dans' #1
The Snooty Ushers say…'Raging Bull' may not have been all of the Ushers favourites, but it came top of 2 lists, and second in the other two. Many might think it is a forgone conclusion but can you blame us?
There is no glamour, no romantic fairy tale and no light at the end of the tunnel. Raging Bull is one cold, hard hook to the jaw. Though I would not say this was the pinnacle of Martin Scorsese's or Robert De Niro's career, it was most certainly one of their finest hours.
An absolute masterpiece, the biopic of middleweight champion Jake LaMotta, and his fights with Sugar Ray Robinson.The fight scenes are balletic yet brutal, and sell LaMotta's desperation. The supporting cast are on fire (Joe Pesci surely goes down as one of the best supporting actors of all time) and visually the film is both stunning and stark. If you haven't seen it, you need to.
So that was our Top 10 list of Boxing Films that the Snooty Ushers have seen. Are there any we have not seen that should be on this list? Or do you think we've made a mess altogether? Let us know in the comments and get debating!