It's nearly Christmas time, which means Call of Duty: Black Ops 3 is about to hit and we have another year to wait for the next instalment in the insanely popular FPS franchise. Now to celebrate its release, as some of us are also gamers, the Snooty Ushers are going to do a Fan Cast for the game that rejuvenated the franchise into the monster that it is today. This is our cast for a Call of Duty: Modern Warfare film.
So there are a number of characters that could be used due to the continent hopping nature of the narrative however we will only focus on some of the integral characters in the game.
---
John 'Soap' Mactavish – Dominic Cooper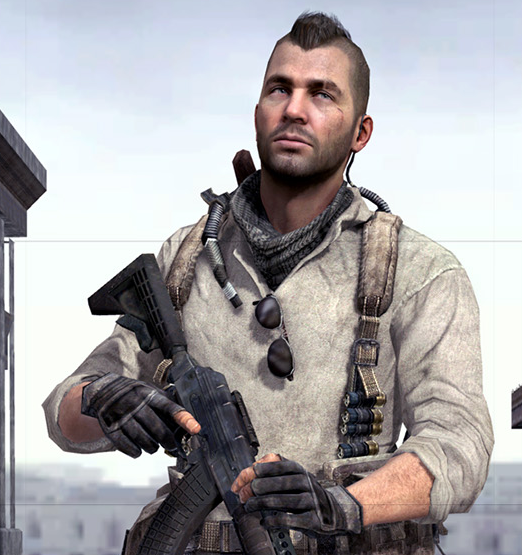 In the first game we don't get to know much about Soap
 apart from the fact he is new to the 22nd SAS Regiment. In fact we don't even hear or see him in the game, it is all from the first person perspective. Thankfully he returns in later instalments of the Modern Warfare series so we can get an idea of what he looks like (hence the image to the left).  Due to Soaps status as new to the regiment we could easily go for an actor newer to the scene, but not necessarily younger. They also can't be totally naive, he is in the SAS after all. I've went back and forth on this choice so many times it is making my head hurt, I don't even know if he should be the focal point of the film. Could we use Luke Evans maybe? What about James McAvoy? Honestly I'd be happy with either, but my ultimate choice is Dominic Cooper. This man is turning into a chameleon with his variety of roles, accents and film choices. He is already making a name for himself, and may well be huge in the impending Warcraft film next year. So lets get him now whilst he is on a hot streak.
---
Captain John Price – Gerard Butler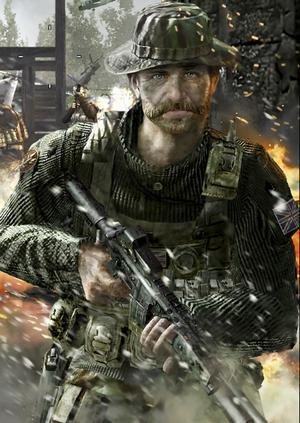 Captain Price has become one of the most iconic character
s in modern games, why? Maybe it's because he is a bad ass, grizzled war veteran who is not afraid to shot first and ask questions later. Therefore it's a character you need to get 100% right, I don't even know if I've made the best choice, but I'd like to think I made a good one. Off the back of action packed films such as 300 and Olympus Has Fallen there is enough experience there for him to get the job done with a gun. And when you take into consideration his acting chops on show in films such as Coriolanus and Machine Gun Preacher there are plenty reasons Butler would be great for the job. Captain Price also has a wicked moustache, which I'm sure Butler can pull off too!
---
Gaz – Andrew Lincoln
Essentially a right hand man for Captain Price and crucial
member of the 22nd SAS Regiment, Gaz is an effective solider  who gets the job done. As the character in the game is a touch vanilla you need somebody with a presence and a likeable personality, but can get shit done. Andrew Lincoln walk on down! I know he has The Walking Dead in his schedule currently but by god this guy needs to be in more films! He is an ace actor with so much versatility it pains me that he hasn't been on the big screen since 2010!
---
Captain Macmillan – Sean Bean
This is a small role, and would only need to be used in a
flashback for the story Captain Price tells about the first attempt to kill Imran Zakhaev. As we don't really get to see Macmillan, and he is primarily used as the inspiration and teacher of Captain Price we can add some more flavour to the scene. Make it a symbolic passing of the torch from one grizzled British actor to another, and who better to do so than Sean Bean? The man was Sharpe for goodness sake, he can handle himself, handle a gun and he went from brewery worker to Sheffield United footy player in When Saturday Comes! What more do you need?
---
Sergeant Paul Jackson – Joseph Gordon-Levitt
There is only really one way to approach casting this
character, and that is to cast an absolute fan favourite/popular actor in the role. Why? Because you want every person who didn't play the game to feel the exact same way you did at the end of the mission 'Shock and Awe'. The only thing similar to that incident is the demise of Janet Leigh in Psycho. A bit sadistic, maybe, but one of the things that made the game so special and upped the emotional stakes was the climax to that mission and the fate of this character you had controlled. The problem with that casting method though is everybody has their own favourite, so I'm going to go for one of the most likeable guys around. Joseph Gordon-Levitt.
---
Staff Sergeant Griggs – Anthony Mackie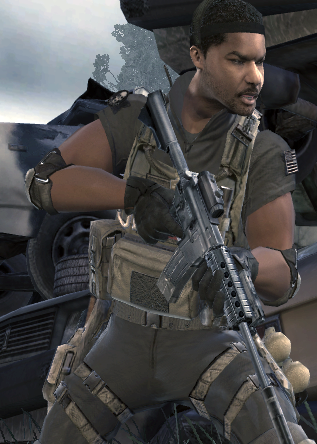 Griggs is a character who fights alongside and in the same 
area as Sgt. Jackson until he meets his untimely fate. Following that Griggs is active support to the 22nd SAS Regiment in later missions and even features in the climatic mission on the run from Zakhaev. I was one click away from using Michael B. Jordan for this role as he was the first actor that came to mind when I looked back on the appearance of Griggs. However Jordan is a touch young to be a Staff Sergeant, so we need somebody with a bit more experience but just as much character and presence. Therefore we call on Anthony Mackie to step up into the role. Mackie has played military roles before and has the frame to be an imposing character, combine that with his light hearted nature and you have a solid, likeable character who can jump in and out of the story a required.
---
Kahled Al-Asad – Fares Fares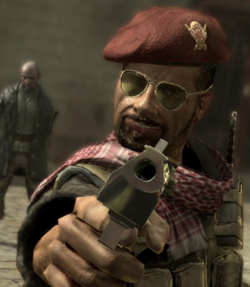 Antagonist number 1, a commander of the revolutionary forces
that are occupying a small but oil rich country in the Middle East when the U.S. Marines head in to action. Looking back at the character design in the game there was one actor who sprang to mind who has demonstrated some great acting, albeit on a more independent scale. Fares Fares can be seen in Zero Dark Thirty helping hunt own Bin Laden, and in the Swedish crime thrillers Easy Money & Easy Money II. He doesn't have the biggest roles in the films, but there is a towering presence there in his frame and I would personally like to see more of him.
---
 Imran Zakhaev – Vladimir Mashkov
Antagonist number 2. Remember Behind Enemy Lines? That
film with Owen Wilson where he is ruthlessly hunted down
by Bosnian Serb paramilitary team? Well Mashkov plays one of the two men who mercilessly tracks down Wilson to the bitter end and he does a damn fine job of it. Mustering up the perfect look and actions of a psychotic lapdog. This time however we would have him do a similar thing in playing Imran Zakhaev, the evil mastermind behind the sinister plans that the SAS and the U.S. Marines are trying to prevent.
---
So there you have it, our thoughts on the cast for a film adaptation of Call of Duty: Modern Warfare. What do you think? Are our choices just as rubbish as the game to film adaptations out there, or is it a bit of alright? Let us know!