After directing the excellently offbeat Blue Ruin in 2014, Jeremy Saulnier returns to the chair to bring us Green Room, easily one of this years most intimidating and gut churning horror-thrillers.
As a young punk rock band, The Ain't Rights, tour through the secluded parts of the Pacific Northwest , they are offered a performance slot in a remote bar following a dead end gig. Needing the money and with little other choice the group make their way there. On arrival it's a dingy place, with a suspect crowd of white supremacists and punks, but Pat (Anton Yelchin), Tiger (Callum Turner), Sam (Alia Shawkat) and Reece (Joe Cole) march forward and put on a show . However on their way out, Pat accidentally becomes a witness to a horrific act of violence that places the entire group in jeopardy. As the only witnesses to a crime, and in order to protect the establishment, the group are held against their will by the venues methodical owner Darcy (Patrick Stewart). Sensing they are in danger The Ain't Rights try to escape, only to find they are now the targets of a wildly dangerous group looking to ensure the incident is kept quiet.
The film wastes no time in setting up the scene, after a trip to small town doesn't yield the exposure they were expecting, the band are given direction to their fateful destination. This leaves us with pretty much a full hour to bear witness to the struggle The Ain't Rights have in trying to escape, and it's not an easy struggle.
With Murder Party and Blue Ruin, director Jeremy Saulnier crafted two very distinctive, individual films that turned the conventions of the genres they were part of on their heads. Green Room follows that trend, despite on a whole not being unlike something you have seen before, a group of friends pitted against the odds trying to avert death. However unlike many films that have used the formula, you won't be forgetting Green Room any time soon. Laden with scenes that will have you squirming in your seat, Saulnier pulls no punches in depicting the grizzly demises of those in the film. Dog attacks, shotguns, and a box cutter all make uneasy appearances throughout the course of the film, and as nasty as they are to watch, they certainly make Green Room hit like a heavyweight horror.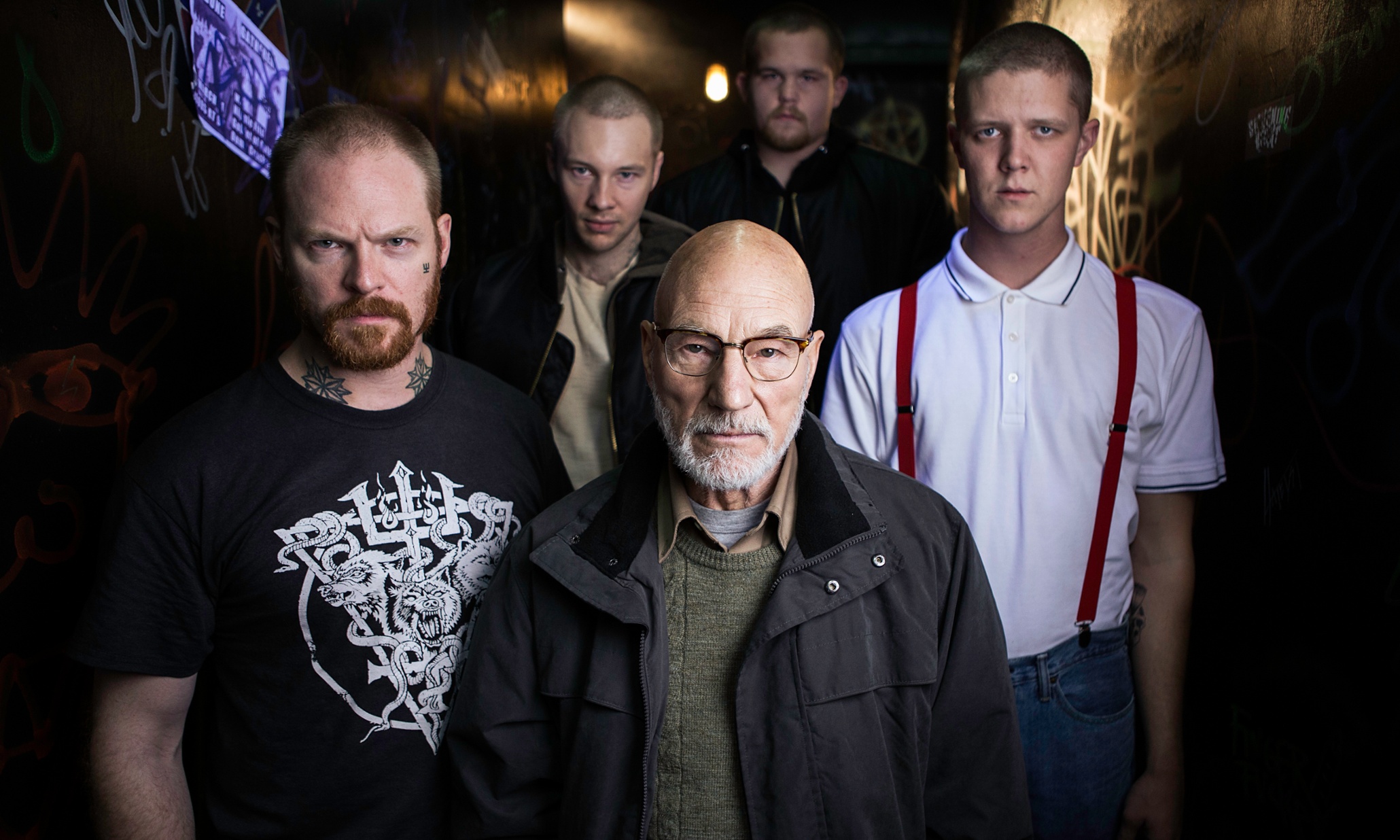 Punctuating the graphic nature of the film are the downright unsettling performances by members  of white supremacist group holding the band hostage, especially Patrick Stewart's Darcy. What makes the group something to be feared is that they don't act overly maniacal or crazy, it's that they go about their nasty business like it's an office day job. Without hesitation, and without blinking. Patrick Stewart's turn is as far from the gentle Professor X as it can be, as he delivers a disturbingly subtle performance that reeks of evil.
Who needs The Red Wedding when you have Green Room. it's not for the faint hearted as this against the odds story gets turned up to 11. Smartly written, and devilishly directed it'll go down as one of the most brutal and thumping horror-thrillers you'll see this year, so sit back, relax and get ready to wince and squirm with every passing minute. Who needs The Red Wedding when you have